The Chief Justice Shirley S. Abrahamson Legacy Committee has developed a traveling exhibit called Justice for All: The Legacy of Chief Justice Shirley S. Abrahamson. The exhibit aims to educate the public about the most influential justice in Wisconsin history and encourage public service. It is available for display throughout Wisconsin.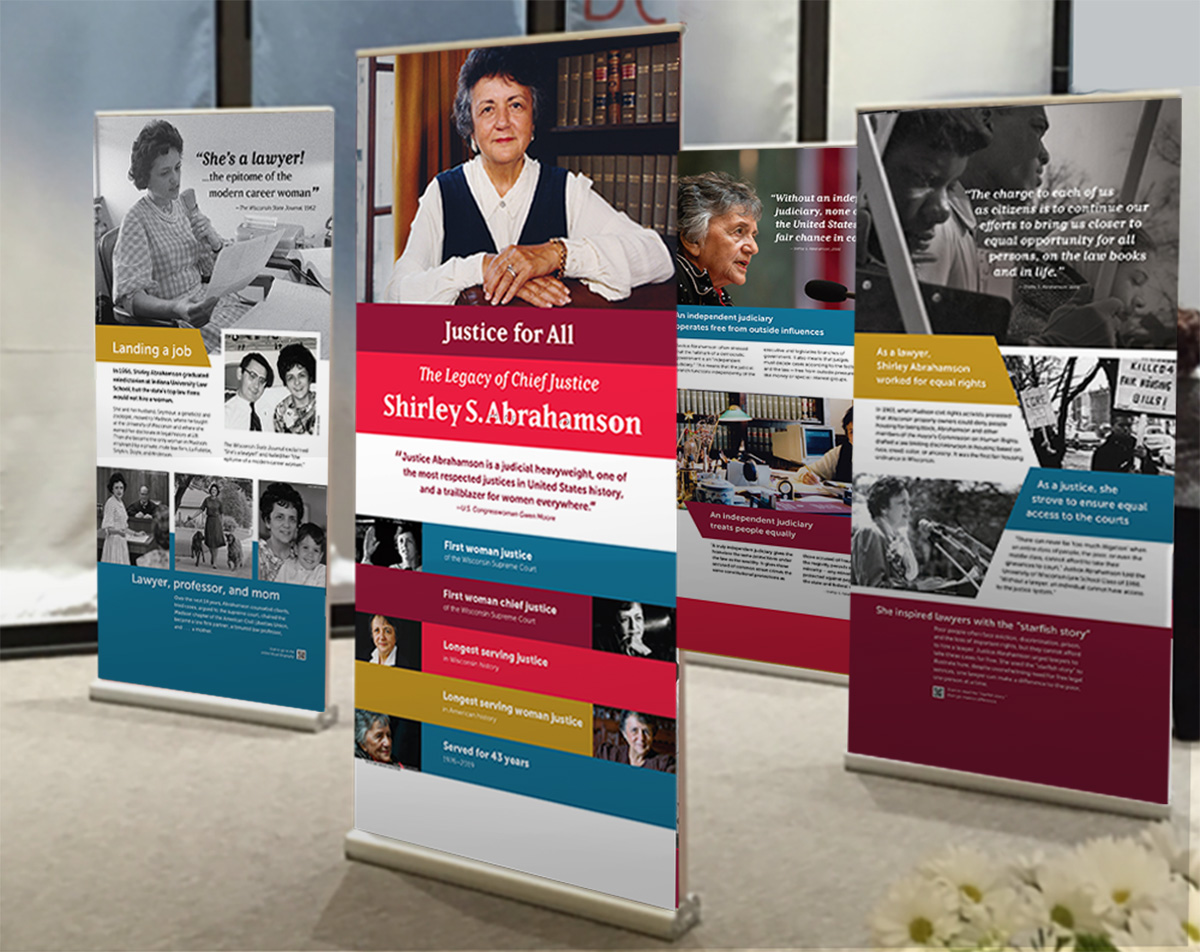 The exhibit presents the groundbreaking career of Wisconsin's first woman justice, her impact on the Wisconsin court system, and her place in history. It highlights causes she championed—women's rights, civil rights, public understanding of the court system, and the importance of an independent judiciary. It presents these themes through archival photos, video clips, stories, and quotations.
The exhibit links to a new, interactive learning tool called Tootsie the Goldfish, which is based on Abrahamson's tutorial for helping people understand how judges decide cases. To her, nothing was more important than public confidence in the law and courts.
Another link on the exhibit takes visitors to this website where they can explore (1) a visual biography of Abrahamson from her birth to Polish, Jewish immigrants through her historic career on the Wisconsin Supreme Court, (2) her most significant legal opinions, (3) a timeline highlighting the trail she blazed for women lawyers and judges, and (4) her quotable quotes.
The exhibit is intended for the general public. It is ideal for museums, libraries, secondary schools, public atriums, and events promoting civics education, Wisconsin history, women's history, and legal history. It may be displayed for up to 12 weeks.
May 25 – June 30, 2022, Madison: Wisconsin Historical Society Lobby
July 1 – Aug. 31, 2022, Wausau: Marathon Co. Public Library
Sept. 1 – Sept. 30, 2022, Milwaukee: Milwaukee City Hall Rotunda
Oct. 1 – Dec. 1, 2022, Milwaukee: UW-Milwaukee Golda Meir Library, Student Library Learning Commons
Oct. 1 – Dec. 15, 2022, Madison: University of Wisconsin Law Library
Jan. 3 – March 31, 2023, Eau Claire: LE Phillips Memorial Public Library
March 20 – April 17, 2023, Milwaukee: Marquette University Law School
April 1 – June 27, 2023, Green Bay: Neville Public Museum
June 17 – August 31, 2023, Milwaukee: Milwaukee Public Library, Central Library
July 1-31, 2023, Drummond: Drummond Public Library
August 1-31, 2023, Minocqua: Minocqua Public Library
September 1-30, 2023, Janesville: Hedberg Public Library
September 2 – November 2, 2023, Stevens Point: UW Stevens Point Dreyfus University Center
October 6 – November 6, Lake Geneva: Lake Geneva Public Library
November 2 – February 2, 2024, Madison: The UW Hillel Foundation at the Barbara Hochberg Center for Jewish Student Life
The exhibit consists of eight poly fabric banners, each measuring 39" X 87", and four banner stands. Each stand supports two retractable banners, front to back. The banner stands are lightweight and easy to move.
The minimum recommended space for displaying the exhibit is 180 square feet.
To book the exhibit, contact Erica Fox Gehrig at efgpreservation@gmail.com