Shirley S. Abrahamson served on the Wisconsin Supreme Court for 43 years. She was Wisconsin's first woman justice and chief justice, and she is the longest-serving justice in Wisconsin history. She devoted her record-breaking career to cultivating an independent judiciary, access to justice, equality for all people, and public confidence in the court system.
Donations are made to the Wisconsin Historical Foundation, which serves as the fiscal agent for the Chief Justice Shirley Abrahamson Committee and its projects.
The Wisconsin Historical Foundation is a 501(c)3, nonprofit organization that supports the Wisconsin Historical Society through private contributions and its membership program.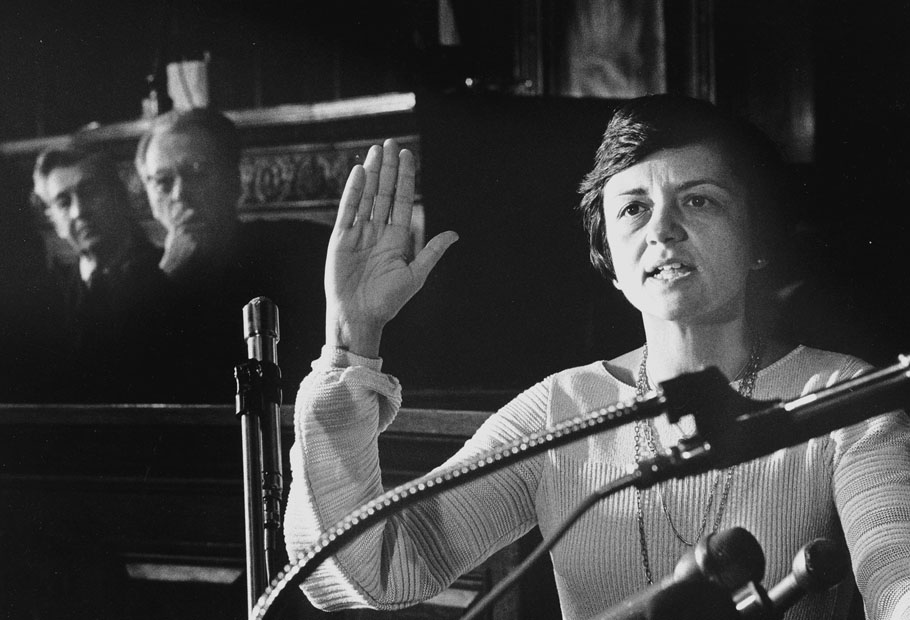 Thank you to the following foundations, corporations, law firms, and individuals for their generous support:
$10,000+
Chief Justice Abrahamson's Law Clerks and Judicial Assistants
Epic Systems Corporation
Foley & Lardner LLP – Madison
Habush Habush & Rottier Charitable Fund
within the Community Foundation for the Fox Valley Region
Michelle Friedman
The Estate of Gretchen Hoover
Wisconsin Civil Justice Foundation
$5,000 – $9,999
von Briesen & Roper, s.c.
Burns Bowen Bair, LLP
Davis & Kuelthau, s.c.
Gimbel, Reilly, Guerin & Brown, LLP
Gingras, Thomsen & Wachs, LLP
Godfrey & Kahn S.C. – Milwaukee
John and Carmen Skilton
John and Katherine Miller Charitable Fund of Lakeshore Community Foundation
Quarles & Brady LLP
Ruder Ware Law Firm
$1,000 – $4,999
Gregg and Amy Bogost
Boardman & Clark
Mark and Ann Bradley
Bremer & Trollop Law Offices
Crooks Law Office
Domer Law
Forrest and Andrea Farrell
Gass Turek, LLC
Janine Geske and Michael Hogan
Haben Goitom and Chris Smithka
Michael and Linda Groth
Robert Habush
Herb Kohl Philanthropies
Robert Hughes
Lake Effect HR & Law, LLC
Mastantuono & Coffee S.C.
Christine Bremer and Paul Muggli
Perkins Coie LLP
Pines Bach
David and Louise Trubek
Benjamin Wagner
$1 – $999
Elizabeth and Lynn Adelman
Hildegard Adler
Alan and Colleen Ball
Audrey Brooks
Sandy Brown
Gina Carter
Brad Dallet
Jeffrey O. Davis and Rachel Schneider
J. Michael End
Kathleen Donius
The Honorable Kathleen M. Falk
Laura Graham
Lynn Haug
Herrling Clark Law Firm, Ltd
Mark Hertzberg
Tiffany Highstrom
Barbara Ingram and William Tyroler
Richard Johnson
Susan and Murray Katcher
Stuart Kim
Stephen Kravit
Ronald Luskin
Tim and Linda Muth
Aaron Nelson
Anne and Thomas Reed
Peter Ritz and Carrie Macklin-Ritz
Noah Rosenthal
Sherie Sasso
Eric and Jane Schulenburg
Todd Smith
Alan Spiro
William Steinmetz
Rayla Temin
Kent Tess-Mattner
Susan Tyndall
Jeffrey and Dylan Wagner
Mary Kay Wagner
G. Lane* and Linda Ware
Frances L. Weinstein